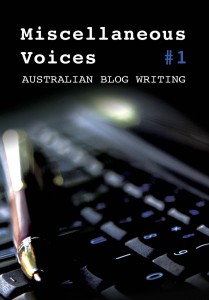 Miscellaneous Voices: Australian Blog Writing #1 contributors:
Miles Allinson, Jessica Au, Vanessa Bates, Alan Baxter, James Bradley, Allison Browning, Ashley Capes, Maxine Beneba Clarke, solid gold creativity, Carla Del Vecchio, Lisa Dempster, Tristan Foster, Brad Frederiksen, Stu Hatton, Mark William Jackson, Tiggy Johnson, Mike Lynch, Alison Martin, Angela Meyer, Jennifer Mills, Derek Motion, Lily Mulholland, Ruby J. Murray, A S Patric, Carole Poustie, David Prater, Penni Russon, Amanda Scotney, Tim Train, Tiffany Tregenza, Damon Young
Author: Karen Andrews
Karen Andrews is an award-winning writer and author. Her work interrogates, and celebrates, the nuances of creativity while balancing contemporary family life. She does this on her popular blog (karenandrews.com.au) and her podcast The Creative Life. She is a regular contributor to publications throughout the country and when she isn't she writing is obsessing about where to travel next in the world and how she's going to store her massive book collection.
Her latest book, Crying in the Car: Reflections on Life and Motherhood was released in November 2012.
Illustrator: Kim Fleming
Kim Fleming has been drawing and painting ever since she realized that red and white make pink at the age of four. Although she doesn't use much pink in her work these days, the wonder of painting and creating new worlds thrills her just as much as that first discovery. Kim has worked and exhibited in the USA and Australia, created illustrations for magazines and interactive children's games, and illustrated several books for children and young adults. She uses a mixture of watercolours, acrylics and collage. Her website is www.kimflemingillustration.com